Director :
Dietmar Dutilleux
dietmar@omegamas.co.id
Customer Support Head :
Dwi Susanti
santi@omegamas.co.id
Factory :
Dusun Winong Timur Rt.11/Rw.06
Desa Pohgading, Kecamatan Pasrepan,
Kabupaten Pasuruan 67175
Indonesia
Phone +62-343-441625
Products
Bespoke Interiors – Hotel/Commercial Projects – Home Accessories - Soft Furnishing - Special Projects
History
Our company started up as CV. Omega Mas and was established on the 10th of March 1995
CV. Omega Mas was formed due to demand for hand-made wooden furniture from Australia, New-Zealand and Europe. From 1995 until 1997 the company operated from a small workshop in Pohjentrek, Pasuruan, Indonesia with about 15 full-time worker and twice as much part-time employees.
As the demand for our company's products grew so did the demand for production space. After careful planning and market research we expanded to our newly built facility of 10.000 Sq M in Dusun Winong Timur, Desa Pohgading, Kecamatan Pasrepan.
During this expansion we changed our legal identity to PT. Omega Mas and we are currently exporting to New Zealand, Australia, Denmark, Germany, New-Zealand, Belgium, Taiwan, US and the United Kingdom using both hand-made and machine made production techniques.
On the 2nd of December 2003, we have also been able to achieve our goal of DIEN EN ISO 9001:2000 certification from the TUV CERT certification body of TUV Anlagentechnik Gmbh (Certification registration no. 01 100 018789)
We have been committed, since the first pieces of furniture we made, to a "People – Planet – Profit with Principle" way of work, and have achieved VLO (Verified Legal Origin) certification and FWC Status
Another of our strengths is the ability to offer personalised mixed containers of furniture, both regarding models, styles and colours, so not to over burden our customers with having to take large amounts of stock of the same type, giving our customers greater flexibility
Vision, Mission and Policies
Vision
We will be a value added manufacturer and marketer of fully market oriented funiture and accessories
Mission
Design, Manufacture, Supply and Market quality furniture and accessories and at the same time:
Satisfying and exceeding client expectations.-Supporting changing market conditions and production methods.

Committed to developing mutually beneficial long-term trade relation-ship with our cutomers, base on trust, integrity and efficiency.
Policies
To have a work environment that promotes the forming and use of integrated, pro-active management teams.

Have a"People – Planet – Profit with Principle" attitude in every decision we take.

To have a working management team that leads by example, using international standards.

Our customer's success is our success, we offer products and services that enhance the competitiveness of our customers, we seek to create and maintain lasting relationships based on trust and a shared vision. We are committed to making it easy for our customers to do business with us.

Continuously communicate with our customers and pay extra attention to measuring and evaluating customer satisfaction.

Learn from our experiences, grow as a person, grow as a team and have fun.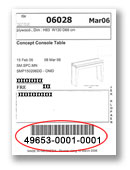 Terms and Conditions
Payment Terms are written on the Pro-Forma Invoice.

All goods remain property of Omega Mas until Full payment is settled.

Delivery means delivery to shipping agent, stuffing of the container or location as per agreement.

If a dispute arises that can not be settled between the 2 parties, the court of Surabaya Indonesia is the relevant authority.

In Case an order is cancelled by buyer, any possible down-payment or any other payment in relation to that order would not be returned.

Claims will only be accepted when a clear description, picture(s), and reference (barcode and/or QC pass number) is provided.